Well, I hope you'll smile.
here's a screenshot of it on smashwords: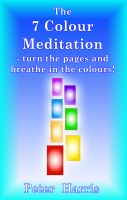 The 7 Colour Meditation – turn the pages and breathe in the colours!
By Peter Harris
A simple new way to pace yourself, slow down and be blissfully mindful. As the title says, you just turn (or click) the pages and breathe. One breath per page is a 6 minute meditation through the seven colours. To really get into a colourfully altered state, try seven breaths a page! Each colour can represent a chakra; or just a pure experience of quality…
It is deceptively simple. 
 Here's the links to smashwords (free) and kindle (99cents)
If you use it and love it as I hope you will, pleeease be the one in a googleplex online (hyperbole perhaps, but not by much!) and leave a little review, or at least a rating (**** or ****** if you REALLY love it!:)
And then go forth into the world in peace, and … make a dent in the (human) universe!